Make a Line Ring a Specific Extension on the NEC SL2100 and SL1100
Make a Line Ring a Specific Extension on the NEC SL2100 and SL1100
This Tech Tip demonstrates how to set up a personal line, in which a CO Phone Line rings only one specific extension.
Get Connected
This Tech Tip requires access to the phone system using NEC PCPro Programming Software. To download the latest version of PCPro or for instructions on how to connect your computer to the phone system, please read the following: How to Connect to the NEC SL2100 or SL1100 Phone System for Programming.
Programming Steps
NOTE: In this example, Mode 1 is defined as Day, Mode 2 is defined as Night, and we will make Trunk 04 ring exclusively to extension 105.
1. Go to Program 22-02: Incoming Call Trunk Setup
2. Set Trunk 04, Mode 1 and Mode 2 to DIL
3. Go to Program 22-07: DIL Assignment
4. Set Trunk 04, Mode 1 and Mode 2 to Extension 105
This will now terminate Trunk 04 to only ring on extension 105 for Day, Mode 1 and for Night, Mode 2.
5. Go to Program 24-09: Call Forwarding Fixed Settings
6. Select Extension 105 from the ICM Extension dropdown menu
7. Set Program 24-09-01: Call Forward Type to Call Forward Busy/No Answer
8. Set Programs 24-09-02 through 24-09-05 to 3999
Note: 3999 is the default Virtual Extension Voicemail Pilot number. If you have altered your system and/or extension numbering, then confirm your virtual extension voicemail pilot number in 11-07.
9. Apply and upload your changes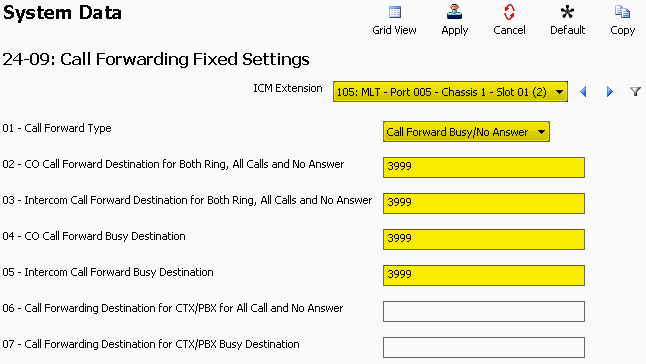 Steps 5 through 8