Changing Outbound Caller ID of a Digital Extension on the NEC SL2100 and SL1100
Changing Outbound Caller ID of a Digital Extension on the NEC SL2100 and SL1100
Sometimes a single user will need their own outbound Caller ID – for instance, if the user has their own private DID. This Tech Tip will demonstrate how to change a displayed caller id number on an outbound call made from the NEC SL200 or NEC SL1100. (Digital extensions only)
Get Connected
This Tech Tip requires access to the phone system using NEC PCPro Programming Software. To download the latest version of PCPro or for instructions on how to connect your computer to the phone system, please read the following: How to Connect to the NEC SL2100 or SL1100 Phone System for Programming.
Programming Steps
1. Go to Program 15-01: Extension Basic Setup
2. Select the desired extension number from the ICM Extension Dropdown Menu.
3. Click the checkbox next to 04-ISDN Caller ID
4. Go to Program 21-13: ISDN Calling Party Number Setup for Extensions
5. Enter the desired outbound caller ID in the "Calling Party Number" field, next to the desired ICM Extension Number
Note: This change does take precedent over any outbound trunk calling party numbers.
6. Apply and upload your changes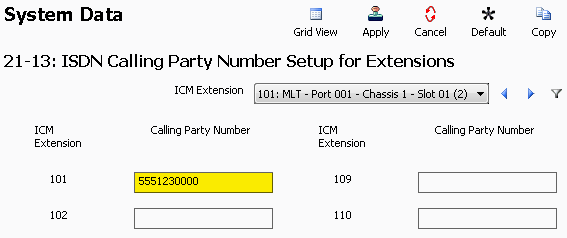 Step 5. Enter the desired outbound caller ID in the "Calling Party Number" field, next to the desired ICM Extension Number
Post navigation