Dial-By-Name Directory on the NEC SL2100 or SL1100
Dial-By-Name Directory on the NEC SL2100 or SL1100
This Tech Tip demonstrates how to program a dial-by-name directory using the party's first name. This tip applies to both the NEC SL2100 and NEC SL1100 Phone System.
Get Connected
This Tech Tip requires access to the phone system using NEC PCPro Programming Software. To download the latest version of PCPro or for instructions on how to connect your computer to the phone system, please read the following: How to Connect to the NEC SL2100 or SL1100 Phone System for Programming.
PCPro Programming Steps
1. Go to Program 47-07: InMail Routing Mailbox Options
2. Go to Routing Mailbox 32 and make sure its mailbox type is set to Directory

3. Go to Program 47-15: Routing Mailbox Directory Options
4. Here you adjust how you want the directory to function. We will set ours to work by First name, and it will require a minimum of 3 letters. We also will be using Directory List 1 as we have our courtesy pre-programmed database set to Directory List 1 in 47-02 for all mailboxes.

5. Go to Program 47-13: InMail Dial Action Tables
6. In the Dial Action Table setup a dial digit entry as "Go to" and give it a destination of 32. This will route the caller to Routing Mailbox 32 which we have defined as a Directory.


7. Go to Program 47-02: InMail Station Mailbox Options
8. Verify that each extensions mailbox is part of Directory List 1 as mentioned above by going to program block 47-02. See below: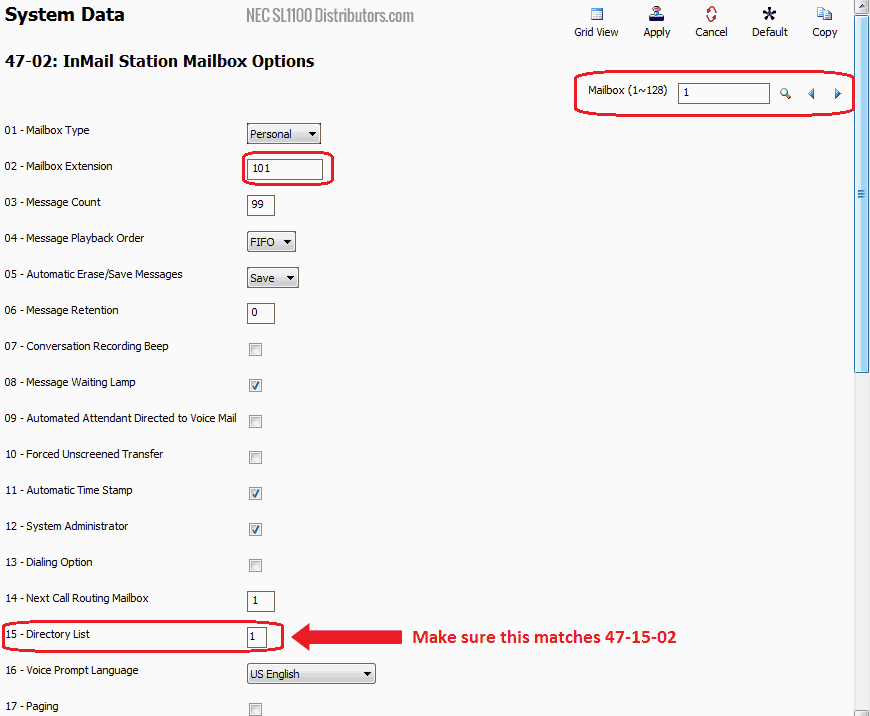 9. Go to Program 15-01: Extension Basic Setup
10. Make sure each extension has a name setup. Since we are using first name directory we can enter in the first name alone.
Note: If using the last name option, you need to enter in a first initial followed by a space and then the last name OR the first name followed by a space and then the last name.


Recording the Name and Number
Now have each extension user record their name and their extension number in their voicemail.
Note: Perform the following steps from any desk phone that is connected to the phone system.
1. Go to an extension and press VM

2. While in voicemail press the "More" softkey

3. Press the soft key labeled as "RcNam"

4. Now press "Rec" to record a mailbox name and number.